For the past 4 years we have been collecting new and gently used coats, hats, gloves and scarves to distribute to our brothers and sisters in the Clark-Fulton neighborhood in Cleveland. This year, we are partnering with Clark Elementary to provide winter gear for 600+ students and their families.
We are collecting coats, hats, gloves and scarves of all sizes now through November 10th.
Monetary donations can be made to: 'Alpha Village' and dropped off at the parish office.
Get Involved!
If you'd like to help sort coats or distribute them with us at Clark Elementary, contact Kim Harrington and Amy Morgan for more details: avwarmthproject@gmail.com.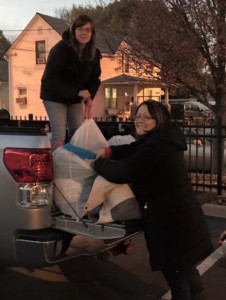 Drop off locations:
Saint Ambrose Church
929 Pearl Road, Brunswick
Unity Catholic Federal Credit Union
Brunswick, Parma, Lakewood, Cleveland
Roni Bell – HealthMarkets
1039 Pearl Rd, Brunswick